This past weekend, I'm not going to lie, was pretty freaking amazing. My parents, kids, and I, along with a huge group of friends, colleagues, and fellow health and fitness enthusiasts, spent our Saturday at Cal State University of Bakersfield with Tony Horton. I think my kids, 7 years and 5 years old may have enjoyed it more than me! They have seen Tony on the TV screen over the past few years with my P90X, X2, and X3. They even have their own Tony and the Kids workout. My parents got in on the fun too! They have been working with Tony and the Folks and love it too!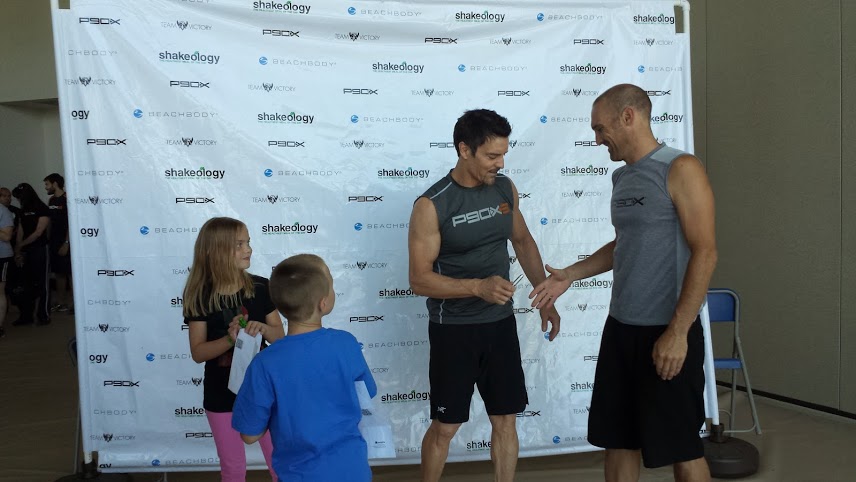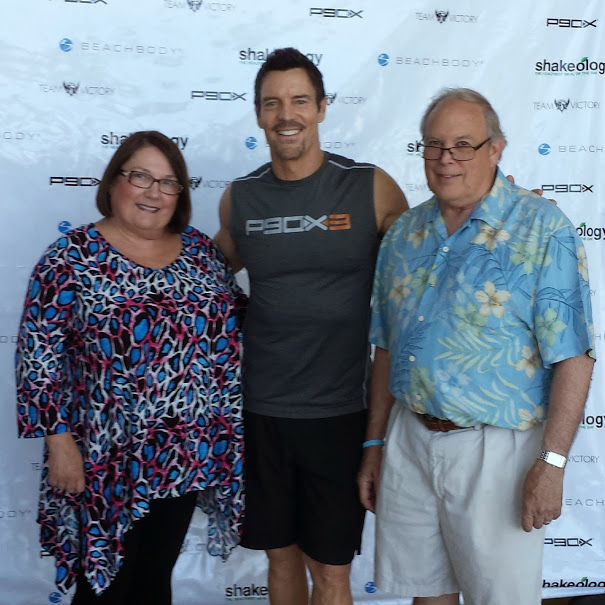 Beyond the physical workout we all got to enjoy, the messages that Tony had to share I felt were more what I needed to hear. Especially when it comes to nutrition. I know that I let my physical activities give me an excuse to eat whatever I want over the past year. The problem is I know that eating fatty, salty, sugary, fried, foods isn't good for me, but what is more important is that it is not properly fueling my body based on it's demand. How can I expect to continually get better as an athlete if I am not fueling the body optimally, right? In fact, I have actually been setting myself up for injury. Luckily, the supplements I take have been carrying me through these moments of nutritional weakness. However with the addition of the 2014 Ironman Lake Tahoe goal, the supplements and a 60% / Clean 40% Dirty Eating rule just isn't going to cut it. I can't afford to get injured more than I already am hindered by this nagging left side tightness (which I am addressing with a Spring Stretch Challenge Group on Facebook). Flexibility is a key component of fitness. Flexible is something that I have never been. I know that it is going to be a painful journey, but I need to be flexible and know that it will open up a whole other level of fitness and health. Sunday I spent the day with the kids swimming and playing games. Kind of a Recovery Day of sorts. Much needed. Met the new puppy!
Today was a good day all around. Davis and I spent a little time in the morning together. I got in a quick swim, spent lunch with Addison at her classroom birthday party, got in some time at the office, hit the bike trail for a hot and windy ride, dinner with the girls, and a dog walk. Looks like the puppy is staying. The girls named her Scout after Scout in To Kill A Mockingbird, after briefly being named, Ginger, Bella, Lola, Sasha, and maybe a few others. The remainder of this week I will be focusing on stretching, eating better, and getting better sleep…oh yes…and riding my Falco V! Group Race/Ride tomorrow night and a Time Trial this weekend!
Triathlon Training Log – May 17-19, 2014
Saturday, May 17, 2014
Morning Weigh-in: 171
Breakfast:  3 – AcidCheck Caplets, 2 – Slimming Formula, 2 – Cordastra, 2 –  Vector450, and Chocolate Shakeology
Snack: Protein Bar, PowerBar
Lunch: Chicken Terriyaki, Noodles
Workout: 30 Mins Ultimate Warrior with Tony Horton
Dinner: Pepperoni pizza and Potato Wedges
Snack: Ice Cream Sandwiches and Popcorn
Sunday, May 18, 2014
Morning Weigh-in: 173
Breakfast:  3 – AcidCheck Caplets, 2 – Slimming Formula, 2 – Cordastra, 2 –  Vector450, and Chocolate Shakeology
Lunch: Turkey Sandwich and Potato Chips
Workout: 5 Mins on BOWSWIM
Dinner: Penne Pasta with Chicken and Broccoli in an Alfredo Sauce
Snack: Bag of Popcorn and a Lime Popsicle
Monday, May 19, 2014
Morning Weigh-in: 172
Breakfast: 3 – AcidCheck Caplets, 2 – Slimming Formula, 2 – Cordastra, 2 –  Vector450, and Chocolate Shakeology
Workout: Lunch: Pizza, 2 Cupcakes
Pre-Workout: Energy and Endurance Formula
Workout: Cycling 18.7 Miles added AcidCheck Granules and Pink Himalayan Salt to Water
Post-Workout: P90X Results & Recovery Formula
Dinner: Steak Fajitas and Spanish Rice, 1/2 Pulled Pork Sandwich
Dessert: Bag of Popcorn and a Lime Popsicle
Snack: Turkey Sandwich