Back in April of 2013 I ordered the De Soto Sport Liftfoil Speedsuit to be used in all of the races I had scheduled for that season. It was my first full year back racing triathlons after a 20 year hiatus and man oh man had the technology changed. Not only was my Kestrel 2000 (circa 1989) with Dura-Ace 7 Speed out of date, but I didn't see too many "Speedo's" out on the courses either. And the one's I did see, I wish I could have unseen 🙂 But alas, seasons change and so shall trends. Thankfully for me, and countless other triathletes, swimmers, cyclists, and runners, De Soto Sport had been connecting advances in technology with style and comfort to develop the best gear available on the market for the previous 23 years! (Happy 25th Anniversary De Soto Sport! Keep up the impeccable work!)
Upon receiving the Liftfoil I was so excited, I put it on and went for a ride. The compression material was awesome. It fit like a glove but still allowed for unrestricted movement, and the 5mm Float Pad (Integral Non-Absorbent Cycling Chamois – see picture below, new 7mm Float Pad shown) was super comfortable.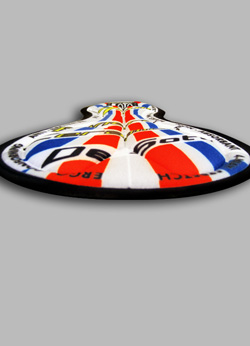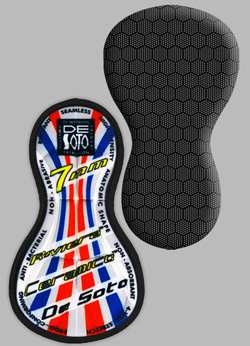 My first big race where I used the Liftfoil was the Wildflower Triathlon – Olympic Distance. This was a race that I had not completed since 1988 (as a 14 year old). It was a windy day, but I finished the race with the help of my new De Soto Sport Gear. I thought the pictures that were taken at the race were decent so I sent them to De Soto Sport. They must have like them too since they later used them online to promote this trisuit. I didn't even know about it until one of my friends sent me a link, and there I was wearing the Speedsuit, Compression Leg Sleeves, Skin Cooler Run Cap, and Race Belt!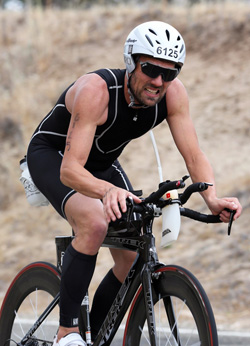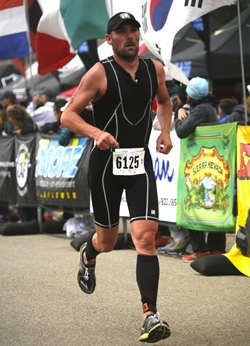 Such a cool gesture on their part! I was and still am surprised that those pictures are up today at https://www.desotosport.com/collections/forza/products/riviera-mens-liftfoil-w-7mm-ceramico-pad. Thank you De Soto Sport for recognizing some of the age-groupers in the sport. Your products help us all to be the best the we can be while we train and on race day. I love wearing your gear and look forward to upgrading the arsenal for this year's race schedule!
Infact I like wearing the Liftfoil so much that it is my primary outfit for training as well as racing and has remained so for the last 2 years. After wearing this trisuit well over 200 times I can report that it has held together beautifully. The flatlock-stitching has kept the panels together and the float pad in place with only minor thread breakage. The float pad has also remained comfortable and has not broken down due to the heavy use it has received. It has never become waterlogged and has kept me virtually rash free as it's design intended. I look forward to using the remaining life out of this trisuit and upgrading to the new model in the next few months. Maybe before the next Wildflower as I attempt the Long Course this time? Who knows?
**************************************************************************************************************
Here is the info from De Soto Sport on the 2015 Model:
The 2015 Liftfoil has the Patent Pending Integrated 7mm Ceramico™ Pad.
USAT approved, WTC Legal and now with coldblack®
WHY BUY THIS PRODUCT?
This suit will help you swim faster in triathlons that do not permit wetsuits. Unlike similar "swimskins" that require you to remove them after the swim portion, the Liftfoil, with its Floatpad™, is designed so that you can swim, then bike, then run, all in complete comfort and without having to change. This pad floats and stretches which means it can be used as a race piece in a triathlon. On the bike, the pad stretches with the short and follows your skin as it moves with every pedal stroke, eliminating the friction that can cause irritation or rashes. It has no pockets and is ideal for shorter triathlons where you do not need pockets, and where you ultimate goal is to finish faster without ever changing. It also works well for longer triathlons that do not permit the use of wetsuits. In this case, we suggest the use of a fuelbelt, or changing from swim to bike to run given that the time required to change is minimal compared to the rest of the race.
This speedsuit has no rubberized material, no polyurethane, and no neoprene. It abides to WTC's recent ruling on swimskins, speedskins, swim apparel…whatever WTC wants to call it.
The Liftfoil has no pockets and no lining. It is designed to help you swim faster during non-wetsuit swims. Designed with a front zipper (16-inch YKK® zipper) which allows you to ventilate by unzipping during the run. Our front-zipper design for men swims better and faster than rear zipper suits. We are the only company that has figured out how to do this so we are the only company with a front-zipper Speedsuit. Hydrolinear™ seamlines hug your body while allowing for maximum reach and glide in your stroke, with no friction against your skin.
Our tests have shown varied improvements of swim times of about 2-4 seconds per 100 meters, depending on the individual, over a conventional swimsuit. This translates to 1'00" for 1500 meters and 2'40" for a swim of 4000 meters. Of course, as with all our products, we offer a 100% satisfaction guarantee. Test it for yourself. If you do not find it performs to your expectations, you may return it for a complete refund.
To summarize:
1. Swim faster in it and use it either as a speedsuit or a trisuit in triathlons.
2. Swim, bike and run it it.
3. Made for races that do not allow wetsuits.
4. No rubberized material, no polyurethane, no neoprene.
5. Now offered with coldblack® cooling and UV protection technology!
6. 100% satisfaction guarantee!
7. Approved for all USAT sanctioned races, and WTC legal for all Ironman and 70.3 races.
This garment is not designed for repeated use as a swimsuit in a chlorinated pool.
coldblack®: Sun Reflector – UV Protector
Dark colors heat up stronger when exposed to direct sunlight compared to light colors. This no longer needs to happen! Now there is coldblack®, a special finishing technology for textiles which reduces heat build-up and provides reliable protection from UV rays.
coldblack® technology offers two innovative benefits:
1. Effective heat management
Light colored textiles reflect both visible and invisible rays of sunlight, meaning both heat and light. Dark colored textiles absorb both types of rays and therefore absorb heat. coldblack® reduces this absorption of heat rays, particularly in the case of darker colors, and in all types of textiles. The result is tangibly better heat management. Because textiles finished with coldblack® heat up less in all colors compared with material without a coldblack® finish.
2. Reliable protection from UV rays
The coldblack® technology guarantees a minimum UPF 30 protection (blocks 70% of UV rays) when applied to any textile in any color without affecting the look or feel of the product. As a result, textiles with coldblack® can make an effective contribution to protecting against harmful UV rays.
Riviera Ceramico™ Pad Dimensions:
     Max Thickness: 7 mm (0.275 in)
     Min Thickness: 1.25 mm (0.05 in)
     Total Length: 28.5cm (11.25 in)
     Front Max Width: 11.5cm (4.5 in)
     Waist Width – most narrow point: 8.5cm (3.5 in)
     Back Max Width: 16.5cm (6.5 in)
Inseam lengths:
     Small: 10″ (25.5cm)
     Medium: 10.5″ (26.75cm)
     Large: 11″ (28cm)
     XLarge: 11.5″ (29.25cm)
**************************************************************************************************************