The Weekend of October 25-26, 2014
Morning Weigh-ins: No weigh-ins
Breakfasts: Chocolate Shakeology with Beachbody Vanilla Whey, 2 – Slimming Formula, 2 – Cordastra, and 2 – Super Suma and Coffee
Pre-Workouts: Energy and Endurance Formula
Workouts: P90X2 Balance + Power (Sat.) and Recovery + Mobility (Sun.)
Post-Workouts: P90X Results & Recovery Formula

Busy weekend. Addison had a Volleyball game on Saturday morning. She and her teammates are learning the game and having fun. Fun to watch too!


I came home after the game all excited to go for a bike ride. I decided to lower the handlebars a click. No big deal. Tightened it back up and gave it a good push down to make sure it wasn't going to slip and "ping!" I snapped a bolt on the handlebar stem.


Lucky it didn't get me in my eye or chip a tooth. Needless to say, the bike became unridable at that point. I was pretty bummed about that. I managed to wiggle the the broken bolt out and headed over to a local fastener shop. They had some replacements and I grabbed a few. Feeling a little better at this point.
Headed over to a Memorial service for Larry A. Wells. So beautiful to hear all of the stories from family and friends. What an amazing guy; he will truly be missed by so many people.
I came back to the bike a little later and "ping!" Another bolt bit the dust. Unfortunately though, this bolt wasn't coming out. I was out of time at this point and headed over to Davis' flag football practice. This was a good little break for me as I was thoroughly frustrated with the bike scenario. Watching him go all out is fun to watch!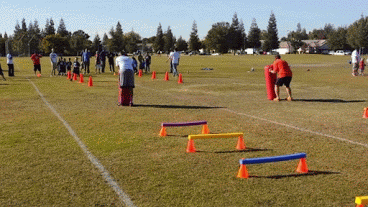 After flag football I went and bought a Dremmel in hopes of slotting the top of the bolt to get it out with a screwdriver, that didn't work. I went and picked up an extraction bit and that didn't work either. Bummer! I emailed Binny Tan at Falco Bike and he said he would send me out a new stem and it would be here in 2 weeks. What an awesome sponsor! This will be just in time for the Kern River Duathlon on November 16. For the next couple of weeks I'll be training on my EVOcx which isn't a bad alternative, its just no where near as fun to operate as the Falco V.
Regarding nutrition this weekend? Well lets just pretend it didn't happen. I mostly ate the wrong stuff except for Sunday Dinner (Chicken and Dumplings). I didn't burn near the calories that I had planned to, and a little ice cream parlor action on Saturday night after picking up the girls from Talladega Frights. I seriously have a weakness for ice cream. Hoping to clean up my diet over the next couple of weeks in preparation for the upcoming race. It's a sprint 2 mile run, 12 mile bike, and a 2 mile run. Gotta be ready!