Yesterday I was sore from Tuesday night's race. I had a weird knee twinge which usually means something was tight and I didn't stretch enough! Happy that it was Walking Wednesday and we were able to go have a Yummy Fajitas Adventure! The walking helped warm up the leg for sure, but it was the hour on the Rumbleroller and finding the hot spot at my left adductor that got rid of the twinge right away. I have been struggling with hip flexor, quadriceps, hamstring, gluteus, soleus, and calve flexibility lately. (Missing my weekly P90X Yoga) All of those muscles, and some others I have not mentioned, can attribute to knee pain. But just because something hurts doesn't mean that I am injured right? Its if I continue to push those muscles without working on flexibility that ultimately leads to an injury. It was so awesome to feel the pain go away last night as I rolled my inner thigh on the Rumbleroller, it hurt like a son of a gun, but the result was so worth it! I am sure I'll be revisiting the Rumbleroller and stretching more this evening as well.
After staying up as long as I could last night to watch Fallon (my Tonight Show Vice) I finally had to turn off the TV and go to sleep. I confirmed that I would be joining some guys for a 6 AM ride. Yeah, 5 am came early. Hit the snooze button 2 times. Rolled out of bed. Filled the water bottle. Aired the tires. Oh yeah, got dressed. Headed out the door at a deliberately slow pace while drinking my E&E. Arrived 5 minutes late :-\ Sorry! Luckily Brock and Aaron are cool and waited for me. Mike got an early morning flat and couldn't make it. So the three of us went off on our ride up around the Panorama Bluffs. On our way back we were moving but it didn't seem like we were going that hard. I could tell my legs were searching for fuel. Aaron and Brock were putting in some strong pulls. We all rotated to the front, taking turns, to keep the momentum going. And it paid off! Each of us got a piece of the KOM when we were through.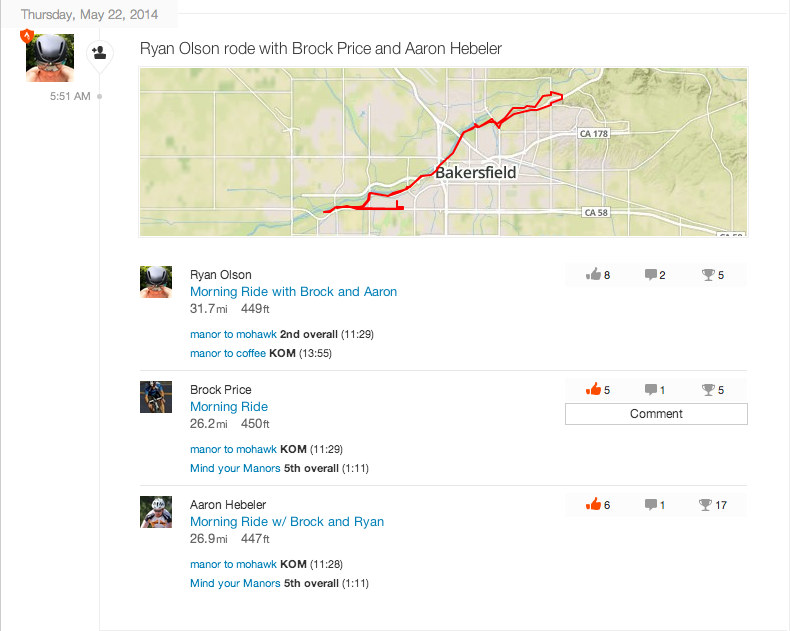 Great ride this morning and what a great way to get the blood flowing for the rest of the day!
Now I am starving! Bring on Lunch!
Triathlon Training Log
Wednesday, May 21, 2014
Morning Weigh-in: 171
Breakfast: 3 – AcidCheck Caplets, 2 – Slimming Formula, 2 – Cordastra, 2 –  Vector450, and Chocolate Shakeology
Lunch: BBQ Chicken Primo Salad and Water
Workout: Walking Wednesday
Dinner: Fajitas, Beans, Rice, Corn Tortillas, Ceviche, Chips, Salsa, Guacamole
Recovery: 1 Hour Rumbleroller 
Midnight Snack: Chocolate Shakeology with Almond Milk and an Organic Peanut Butter Sandwich (Calories for 6AM Ride)
Thursday, May 22, 2014
Morning Weigh-in: 174
Pre-Workout: Energy and Endurance Formula
Workout: Cycling 31.7 Miles added AcidCheck Granules and Pink Himalayan Salt to Water
Weigh-in: 171
Post-Workout: P90X Results & Recovery Formula
Breakfast: 3 – AcidCheck Caplets, 2 – Slimming Formula, 2 – Cordastra, 2 –  Vector450, and Chocolate Shakeology
Stay tuned for Saturday the 24th's Post Time Trial Blog Entry!