So it finally happened. Something I never really think about, but I know it is a possibility every time I go out for a ride. Last Monday I laid my Falco V  down going around a sharp corner on the bike path here in Bakersfield. Luckily no one saw me do it ;-), but if they had, they would have said, "SAFE!" Seriously though, it felt like slow motion. I knew I was coming into the turn a little fast so I tapped the brakes a bit, but 25 mph wasn't slow enough. I don't know if there was sand on the path, or a slight crosswind that helped or not, but when I began to round the corner and both my wheels lifted off the ground, I laid it down. Notice the nice dip in my speed in the middle of this ride report from www.strava.com:


The asphalt was hot. I slid right across it and off into the 3/4″ gravel. I hate to say it, but the gravel was a welcome feeling compared to the hot and hard path. At least there was some give there. I have to say I am truly lucky that the road rash wasn't worse. And from what I can tell, nothing is broken :-). All I wanted to do after the crash was to get home and make the stinging stop. Uncomfortable for sure!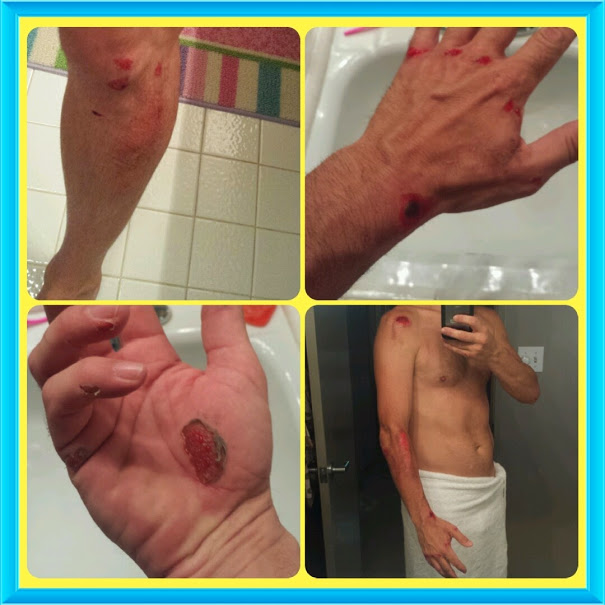 This past week has been rough though. Keeping the road rash pliable by stretching the skin has been my major focus. I don't know if it slows down the skin healing process, but full movement upon healing is my main goal as gross as it may look to others 🙁
I just think of burn victims and what they must have to go through when they lose skin from their 2nd and 3rd degree burns and the pain they must have to go through. If I am only experiencing a glimpse of what they have to go through, my heart goes out to each and every one of them. Recovery sucks! But it is necessary if you want to be functional when everything heals right? And speaking of being functional, taking this past week off of exercise has been killing me! All I want to do is workout, ride my bike, swim, and yes even run, but I have been really good at coming up with excuses to not push it yet. Today I am going to have to go ahead and get moving on something. I am going to attempt my P90X2 Workout this afternoon. I am sure I will have to modify some of the movements, but as long as I am doing something, its better than doing nothing!
So today my #MotivationalMonday quote is from Napoleon Hill:


I won't quit!