Back on the attack after all of these years. Swimming, biking, and running for a little more than just the pure enjoyment of physical activity. You see once you acquire a taste for victory, you tend to crave the competitive atmosphere of the Triathlon over the quest for personal achievement. One obstacle that I have "run" into is the fact that I am not as fast of a runner as I used to be. I am a stronger swimmer and bicyclist now than I was 20 years ago, but the quick turnover runner of old has still not come out of his shell. Looks like it is time to add some Sport's Performance Training specifically designed to promote an athlete to Elite status.
Now I didn't do Insanity ™  to lose all of my weight, I chose to do P90X ™ and P90X2 ™  to chisel off 40 lbs and 67% of my body fat in 7 months, but I decided that Insanity: The Asylum ™ was the perfect program for me to get some speed back into my gait.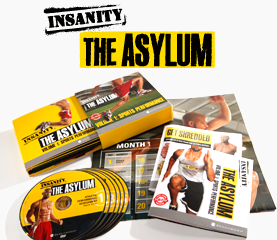 "Winning the game, the race, the match starts now with INSANITY: THE ASYLUM™ workout program. Former track-and-field star Shaun T will push you to Dig Deeper® than ever with sports-specific training and drills inspired by pro athletes. During this 30-day program, he'll push you to build your speed, coordination, agility, strength, and power. So on game day, you'll have the unbeatable athletic edge." ( http://www.teambeachbody.com/shop/-/shopping/Asylum?referringRepId=129365 )
I have completed a week's rotation and have already noticed a difference in my body and my speed. Yesterday I ran with my old High School Cross Country Team and felt strong enough to hang with their fastest runner. It felt like we were moving pretty fast, at least a great deal faster than I had been training on my own. Shaun T is making a believer out of me! I am confident that Asylum will help get me back down to the low five minute mile range again before too long! I just need to remember to always drink my P90X Results and Recovery Formula! This stuff is a life saver! Especially when we get to be older athletes. I always say it is not the age of the athlete, but the ability of that athlete to recover, which sets them apart from everyone else. Words to live by!
Thank you Beachbody for continuing to produce the most comprehensive and useful workout videos on the market! I am excited for the new Insanity: The Asylum Volume 2 which was just released. I figure two rounds of Volume 1 and I'll be ready for Volume 2. Excited doesn't begin to characterize how much enthusiasm I have for what is in store for me and countless others! This is just the beginning!
Happy Training!