Playing a little catch-up here. I started this round of Focus T25 on April 17th at a weight of 191. This was the heaviest I've been in over 5 years. My goal is generally to lose 25 pounds in 100 days, or get to about 8% Body Fat of what ever weight I end up at. The goal isn't always as simple as a weight. Body composition is really the goal and a better gauge of a person's health.
The first week of training went well. I completed 3 out of 5 days of workouts but also added in double workouts with spinning and a substituted workout on my bike another day. The weather was nice so I had to take advantage. My goal however is to not skip any of the T25 conditioning workouts and to use them as my base of training and fitness. Any secondary workouts will just be icing on the cake and get me to my goal faster. This week I hit all of my workouts and was able to add a few spinning sessions as well.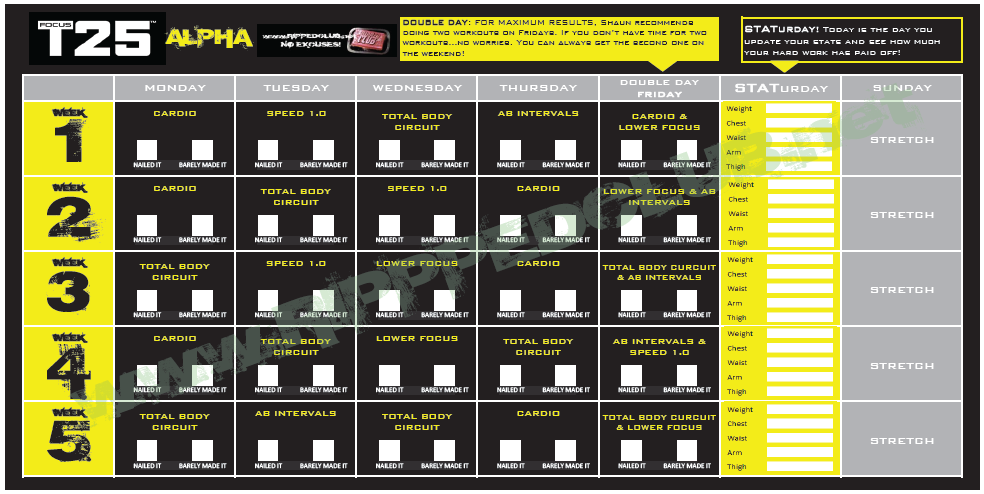 Now for my first accountability post in a long time. Today is Friday so I treated myself for a good week's work as you will see by my nutrition log. The good, the bad, and the ugly truth about calories in and calories out.
Focus T25 Day 12 – Alpha Phase
Morning Weigh-in: 186
Breakfast: AcidCheck Caplets and Cafe Latte Shakeology
Lunch: Chicken Sandwich, 2 Street Tacos
Snack: 1/2 Peanut Butter Sandwich, Handful of Goldfish, KIND Bar spread with peanut butter
Workout: Focus T25 – Lower Focus added Beachbody Hydrate, AcidCheck Granules and Pink Himalayan Salt to Water
2nd Workout: Focus T25 – Ab Intervals added Beachbody Hydrate, AcidCheck Granules and Pink Himalayan Salt to Water
Post-Workout – Beachbody Performance Recover
Dinner: 3 Pieces Pepperoni, Tomato, and Jalepeno Pizza (thin crust), 4 Potato Wedges, and 2 Hot Wings, and 4 IPAs (lots of homework)
Snack – Popcorn and a slice of Angel Food Cake
I am definitely going for a bike ride tomorrow! Gotta get back ahead of those calories if I want the fat to come off!