I don't know if you have ever been to Bakersfield, California but chances are if you are a fan of football, movies, petroleum, NASCAR, or music you've at least heard of it. Besides being the hometown to Frank Gifford, Earl Warren, David Carr, Buck Owens, KORN, Kevin Harvick, and a long list of other celebrities, athletes, and entertainers, its also where I was born and continue to call home today. Bakersfield has the unique distinction of being geographically located at the southern bowled end of the San Joaquin Valley which subjects it to unfortunately poor air quality and fairly hot summers. In fact I can remember some summers where we have had 30 days in a row of temperatures over 100 degrees. Growing up in Bakersfield I have become used to working out in the heat. High School Cross Country practice usually took place after school, so running in the heat of the day was something that became normal to me. Its very possible that this shaped me into the athlete I am today. For instance, I think that training in the heat (as long as it is done safely) can be highly useful. Being able to perform in extreme conditions better prepares you for performing at a higher level when the conditions aren't as extreme.
In an attempt to minimize the affect of the elements during training I am constantly searching for ways to improve my performance and endurance. Because I am open to trying new things, I have been lucky enough to be paired up with a few companies over the years to try out new products in the way of supplements, apparel, and accessories to serve this end. Of all the products that I have tested since returning to the triathlon scene, I have found a few that really work well and do what they say they are going to do. One of the products that I have come to love is Skin Cooler fabric from De Soto Sport. De Soto Sport is a company that started back in 1990 making cool products geared towards triathletes. And they are still at it today making some of the "coolest" products I use!
If you didn't know, the production of sweat is our bodies way of cooling us down. Our sweaty skin is hit by the air and produces a cooling effect as the air passes over it. However, in extreme heat, that sweat evaporates quickly and reduces the duration of the cooling effect. So if there was a product that slowed the evaporation of sweat then that would help us stay cooler for a longer period of time, right? Luckily, my favorite triathlon gear company happens to have such a product in their arsenal of awesomeness. As athletes we commonly see products that are moisture wicking in an attempt to keep our bodies dry. In a cold environment I totally see the practical application for these materials, but when we are trying to stay cool, keeping the moisture near the skin seems like it would be more beneficial. De Soto Sport utilized this thought process in their Skin Cooler product line.
This past summer I had the opportunity to purchase some Skin Cooler products to try out. I picked up a Skin Cooler SDS Long Sleeve Shirt, a SDS Helmet Beanie, a Riviera Tri-Top, and a Skin Cooler Run Cap.
Now I have used the Skin Cooler Run Cap before and loved it, but sadly I donated my last one to an Irish Pub in Milwaukee back in 2013 during the USAT National Age Group Championship weekend. I thought it was a great running cap and loved the fact that it kept my head cool when it was hot outside. In fact, its replacement worked really well this past weekend at the Bakersfield Marathon, especially in the second half when it started to get hot!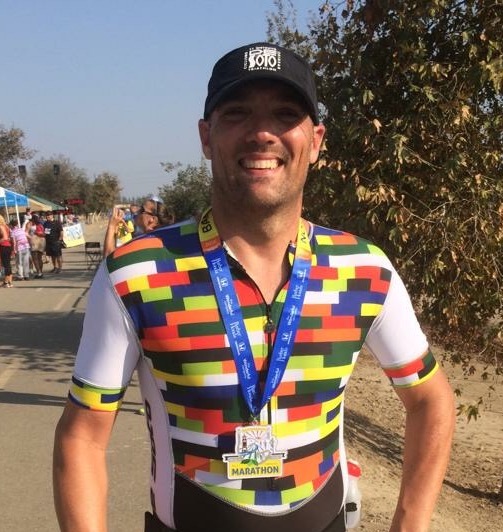 (Shown here wearing the Skin Cooler Run Cap and Riviera Trisuit – Sleeved 2016)
The Skin Cooler SDS Long Sleeve Shirt was definitely a favorite of mine this past summer. It not only kept me cool, it also helped to save me from getting burnt in the afternoon sun. I chose the all white version of this shirt.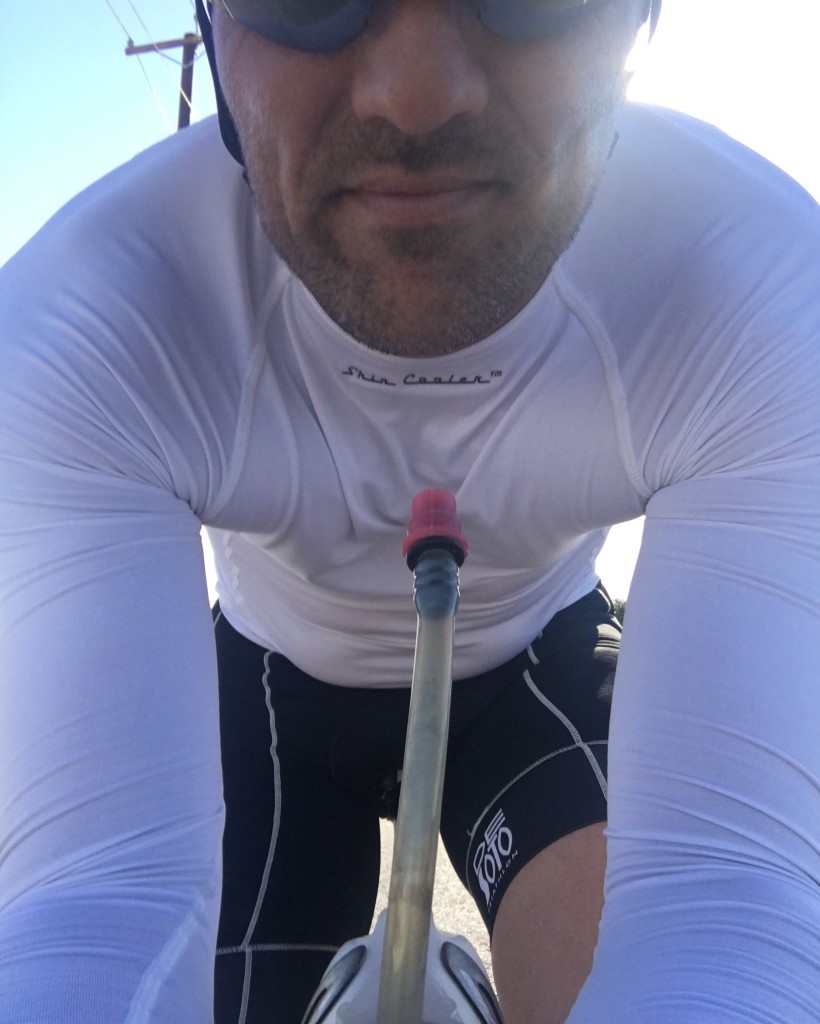 It looked great up until the point I used it with my aero bars on the bike. Unfortunately the elbow pads on the bike stained the elbows with a black smudge. If I could go back in time and order the blue and black version of this top, I probably would, but all things considered, this top definitely served its purpose this past summer.
The 2017 versions of this top are all white with different colored graphics on the front. They are also made with Skin Cooler 90 material which is a bit more durable and aerodynamic than its predecessor Skin Cooler SDS.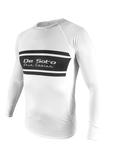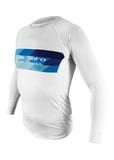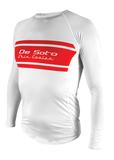 A very useful design of this shirt is the use of pockets in the back to hold ice or wet sponges to help aid in cooling.
The last two skin cooler items I used this summer are the SDS Helmet Beanie and the Riviera Tri Top. (Shown being used in the following picture)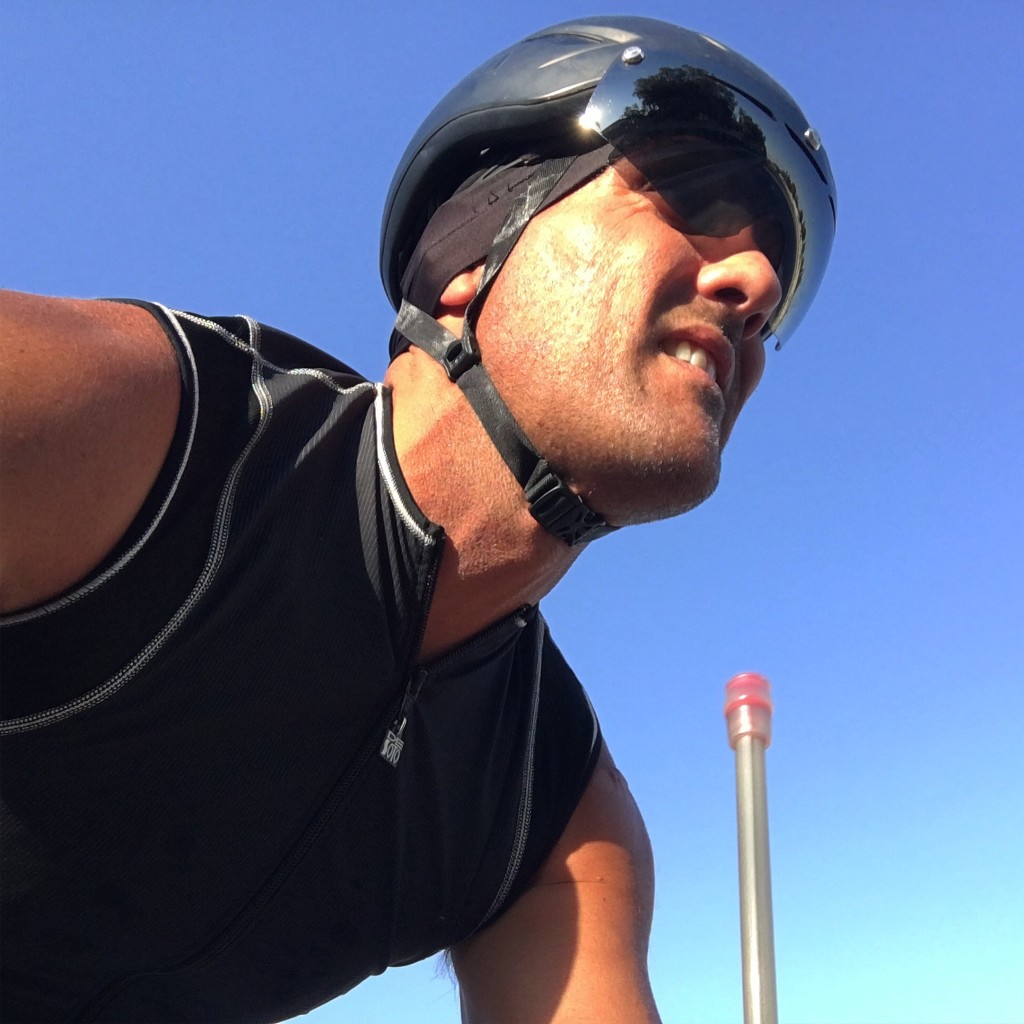 The Skin Cooler Helmet Beanie is one of my favorite items in the Skin Cooler line. It really helps keep the head cool underneath the helmet. When your extremities (head, hands, and feet) are kept cool, it helps to keep your whole body cooler. This beanie also keeps the wind out of the ears which can be nice if you have sensitive ears. I also like it because it keeps the sun of the tops of my ears which tend to get burnt on hot and sunny days.
The Riviera Tri Top is a great option for triathletes or "cyclists looking for a sleeveless option for hot days." It uses compression fabric and Skin Cooler panels to provide support, comfort, cooling, and slimming effect. The neck does ride high to deter scooping air when in the aero position, but you can unzip it while on the run or when its under your wetsuit if you prefer a loosened fit.
Overall I feel that De Soto Sport provides quality products that are useful to their intended customers at a fair price. I am one of those people who will wear the heck out of something if it fits and looks good. If you know someone like me who enjoys quality apparel for swimming, cycling, and running, then they would really love anything from De Soto Sport! Check out their website to find something for yourself or for that special triathlete in your life today!