I spent the morning organizing my computer, while my girlfriend took care of some stuff for school. Organized folders and files, folders and files. Its the cleanest its been in a long time for sure. Productive time spent for sure. Then I ate entirely too much food for lunch. My Club Sandwich was borderline ridiculous and the fries were too good to pass up! After lunch we went home and took a power nap before jumping into the pool. 4:20 rolled around and it was time to hit my 30 minute workout before heading to swim practice.
Swim practice was hot. I was more than happy to demonstrate my technique for starting off the blocks, efficient freestyle stroke, and really any other reason I could think of. It was nice and refreshing.
After swim I headed home to find some of my favorite people waiting eagerly to go to dinner. We decided to get a little Sushi after a long day. We love Sushi!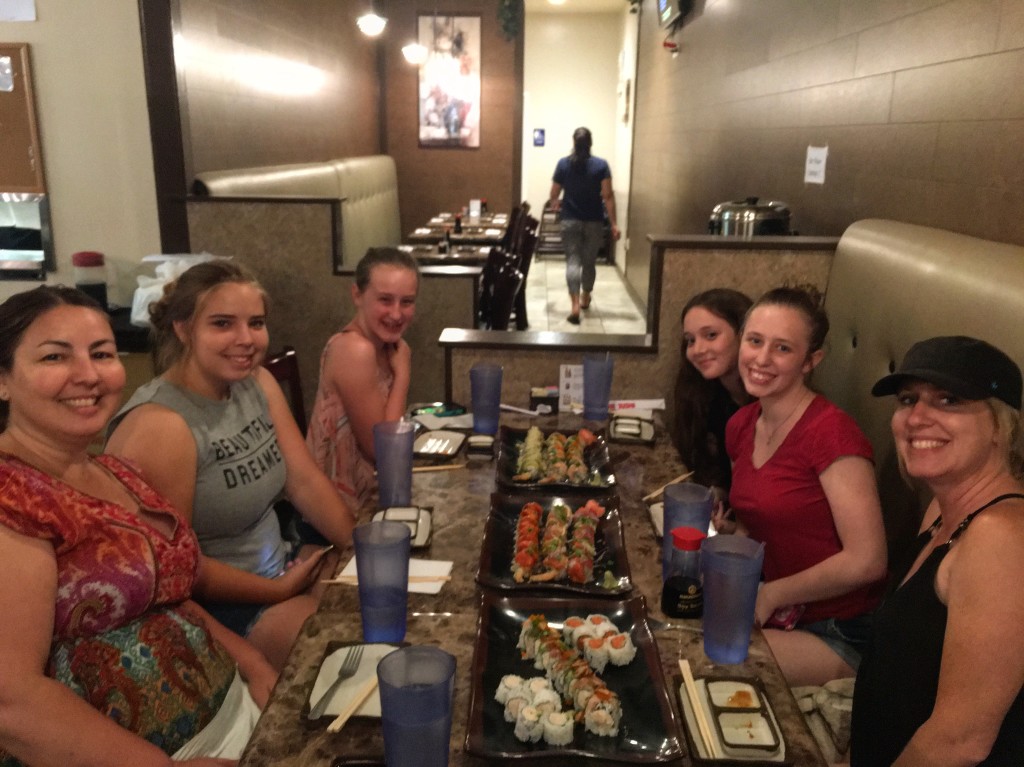 OK a bunch of Sushi, but in our defense, there were a few of us.
After almost too much Sushi, I hit my 22 Push-ups and now it is time to get some sleep!
Training/Nutrition Log
Morning Weigh-in: 180
Breakfast:  3 – AcidCheck Caplets and a Granola Bar (Missed my Shakeology)
Lunch: Club Sandwich, Fries, Water
Workout: Day 3 of Insanity Max 30: Sweat Intervals (Made it entire 30 Mins without stopping or modifying)), used Acid Check Granules, Beachbody Performance Hydrate and Energize mixed in water.
Swim Coaching: Swam a little with the kids while coaching swim practice
Post-Workout: 3 – The Final 3 Capsules for Recovery
Dinner: Sushi and Water
Disclaimer: As a triathlete, I am not always eating with the intention of weight loss but rather to maintain weight and fuel my activity. If you are not as active as I am, please don't use my nutritional intake as your model. If you would like help finding out a meal plan and workouts that would be good for you, please don't hesitate to text or call me at 775-722-8184 or Facebook me at www.facebook.com/fityak. Looking forward to hearing from you!