My job today was to help my parents throw away some old stuff at my parents house. Little did I know that a hidden treasure had been waiting to be found. As I was picking through the items to load into the truck, I came across a drawer set that I had used in my youth. As I worked my way down through the drawers I found old bike parts and deteriorated swim caps. But then to my surprise I found a drawer with a bunch of old race bibs from when I first started doing triathlons up through my Senior year in cross country.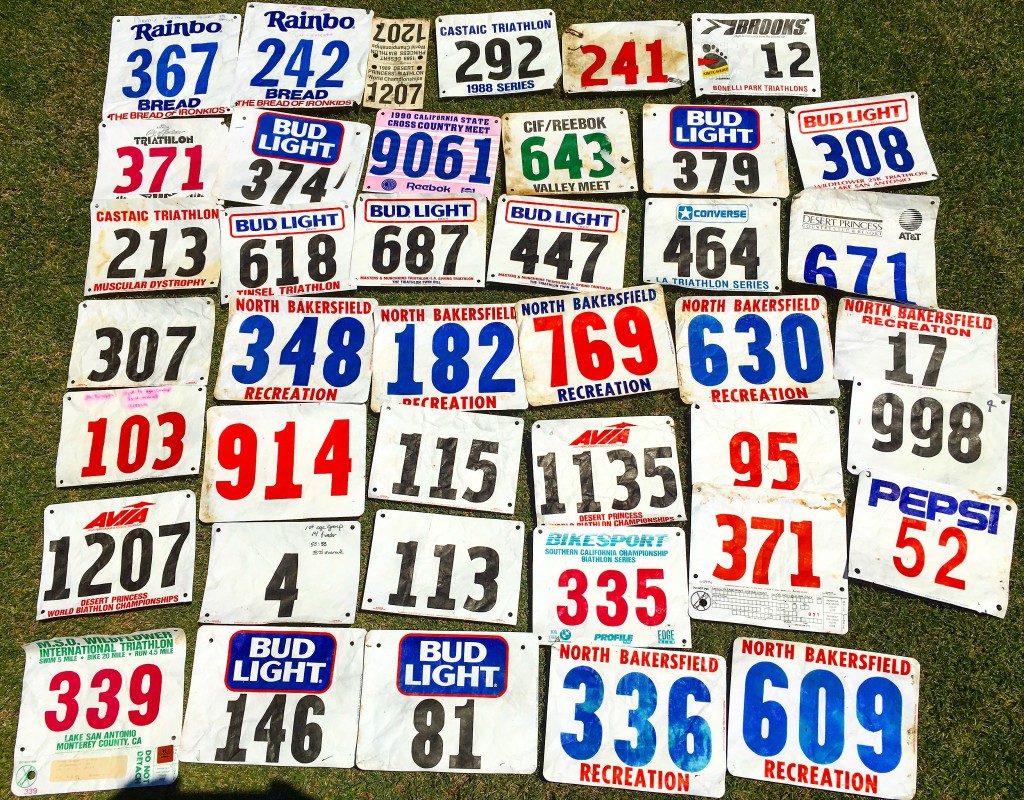 As you may have guessed, I was pretty excited. they were in basically perfect condition surprisingly for have been left outdoors for who knows how long. As I looked through them so many old memories flashed back in my head. I never would have thought that I would have found something as treasured as these. It definitely brightened my day. I was like a little kid again and it helped me hurry through and get the dirty work done and over with.
I goth the truck all loaded and tarped and headed down the road, but I was starving. I needed to get something and stopped at Carl's Jr., against my better judgement, but I was hungry and ordered a Charlbroiler Chicken Club, small fries, and a coke. I very rarely eat this stuff, but at this point it was hot and I was thirsty and it tasted good. Eating fast food isn't the problem. Eating fast food every day is. I continued along on my trip to the dump, which was hot and dusty on this Bakersfield afternoon. Everything I had was recyclable so I made the rounds and distributed the items in their appropriate areas.
After the dump, I headed home to get my workout in, jumped in the pool to cool off, and headed to swim practice. It was pretty hot there too, but good thing I am a swim coach and can jump in to cool down every so often. Plus the kids love it when I jump in with them for a social recovery kick after a long set.
After swim I headed home to be greeted with an amazing dinner. Cajun Crab Cakes and a Parmesan Baked Artichoke. So Yummy!


Followed up this delicious dish with a 50/50 Bar and a bottle of water. Time to do my 22 Push-ups and head to bed!
Hope you all had a great day!
Training/Nutrition Log
Morning Weigh-in: 179
Breakfast:  3 – AcidCheck Caplets and Chocolate Shakeology
Lunch: Charbroiler Chicken Club, Small Fries, Small Coke (Treat Meal for Dump Duty)
Workout: Day 2 of Insanity Max 30: Tabata Power (Maxed Out at 10:20), used Acid Check Granules, Beachbody Performance Hydrate and Energize mixed in water.
Swim Coaching: Swam a little with the kids while coaching swim practice
Post-Workout: 3 – The Final 3 Capsules for Recovery, Half a Peanut Butter Sandwich, and Chewy Granola Bar.
Dinner: Crab Cakes and Baked Artichokes, 50/50 Bar, and Water
Disclaimer: As a triathlete, I am not always eating with the intention of weight loss but rather to maintain weight and fuel my activity. If you are not as active as I am, please don't use my nutritional intake as your model. If you would like help finding out a meal plan and workouts that would be good for you, please don't hesitate to text or call me at 775-722-8184 or Facebook me at www.facebook.com/fityak. Looking forward to hearing from you!