Triathlon Training Log – May 6, 2014
Morning Weigh-in: 171
Breakfast:  3 – AcidCheck Caplets, 2 – Slimming Formula, 2 – Cordastra, 2 –  Vector450, and Chocolate Shakeology
Pre-Workout: Energy and Endurance Formula
Workout: Group Ride Cycling 18.3 Miles added AcidCheck Granules and Pink Himalayan Salt to Water
Post-Workout: P90X Results & Recovery Formula
Lunch: Protein Bar, Water
Dinner: Chicken Breast, Broccoli, Corn on Cobb, Part of Chinese Chicken Salad and Cobb Salad, Baguette
Snack: Lime Popsicle and Honey Bunches of Oats with Unsweetened Almond Milk
Tuesday is my normal day with the kids 🙂 While they were at school I took advantage of the Tuesday Lunch Ride. Even though it was pretty windy, we turned in some good segment times. Faster than yesterday. And today marked 4 days in a row of cycling. Feels good to get back into a rhythm. Basically back to where I was last season before I stopped really triathlon/cycling training and fell beck to strength training (excuse to put on some winter weight 😉 ). This is a good thing for sure!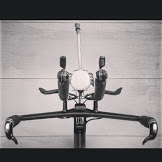 After today's ride I made one more adjustment to bring the bars up and closer to me. This will keep me from cheating forward and riding the tip of the saddle. I find myself migrating forward and keep having to scoot myself back. This isn't comfortable and also puts a greater demand on my quadriceps. Not a big deal when doing a short time trial, but it will mean a great deal in longer triathlons when I go to run. Train smart!