Spring Break from April 11 to April 18, 2014

I usually don't take a whole week off from training, but when I do, its usually for a good reason. No Focus T25 this week. Here is a quick synopsis of what has been going on for the past week:
Friday, April 11, 2014
I received my Falco V frame from Falco Bike and took it to Action Sports to begin bike build.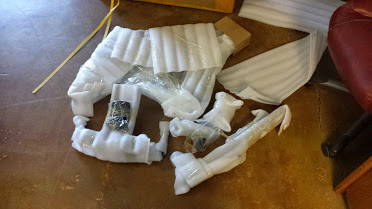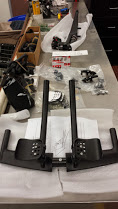 Saturday, April 12
Bike build is complete. Made a mistake by cutting the seat post too short. Since the triathlon on the 13th is a shorter race, I opted to move the seat back to take up some of the slack. Unfortunately this will put a big strain on my lower back during the race. Must get replacement from Falco Bike in order to optimize the bike's set-up. Tested the bike out and found that it is indeed a fast bike! http://t.co/W3P0pentgL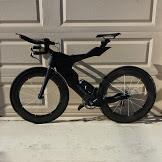 Sunday, April 13
Headed to Bonelli Park early in the morning for my first triathlon of the 2014 Season – The Los Angeles Championship Triathlon Series. I was excited to have my new bike and people really seemed to enjoy seeing her for the first time. The air temperature was cooler than the water (67 degrees) and with a short 500 meter swim, I opted to swim without a wetsuit. I probably should have just worn it to practice transitions and get the added buoyancy, but it was also good to get the practice swimming without the suit too. I felt good during the race and thought I was turning in a good time, but it turns out I was off last year's time by about 9 minutes. A couple of my triathlon friends also had slower times, but when I asked the Race Officials, they said that all of the course was marked exactly as it was last year and for years before.

Got back to Bakersfield in time for the Condors Hockey game with the family! That was fun but I started to feel nauseous. Figured I was just tired, but the symptoms continued to get worse as the night went on.

Monday, April 14 thru Wednesday, April 16
Went through a couple days of being doubled over with gut pain. No fun. Nothing I ate helped. Wednesday I started to feel better and went out to eat. May have eaten way too much.
Thursday, April 17 (My Dad's Birthday)
Headed down to Escondido to get the Falco V outfitted with XLAB hydration and storage systems. What a wealth of knowledge at XLAB – Great people who understand what their customers need and want! This is why XLAB is the leader in hydration and storage solutions for cycling. Keep up the great work!

During the day, I made the mistake of not eating much and ate a late lunch at In-n-Out. Bad idea. I immediately started to feel horrible and by the time I got home, my stomach was in full revolt again. This was a most unfortunate situation to be in when you are supposed to go to your father's birthday dinner at one of your favorite restaurants. I ended up not being able to eat, went home, and got into bed. Disgusted.
Friday, April 18, 2014
Spent the morning in bed trying to recover from my gut issues. I was off of Vector 450 for a few days. Too bad I ran out before my new order came in. I can just imagine how bad this stomach bout would have been if I hadn't had the immunoglobulin on board. Finally able to eat some food without disturbing my stomach. Well at least not more than eating macaroni and cheese would upset it normally. 🙂 Getting to bed early tonight to help continue with recovery.
Have a Happy Easter!