One of my friends is amazing at creating things with her hands! She has been crocheting since I have known her and last year I found out that she started making something other than throw blankets and sweaters. Kiki skillfully produces 100% hand crafted chalk bags, bouldering buckets, and yoga bags. Wow! All of these bags are made with organic yarns and recycled fabrics. Good to know! Unique patterns and fabric choices are utilized to create one of kind bags for any climber or Yogi. That's you! Draw string closures, sturdy rims, tooth brush loops, and buckle waist straps are the norm for a nice finished look and feel. You know you want one, or three! Great idea for presents!
Please visit Kiki Bags on Facebook: Kiki Bags – You can contact her on there and see what she has in inventory or let her know what you are looking for (if you are nice she may make one in your favorite color). I got one for my 6 year old daughter (it has a crocheted flower on it) and I can't wait to give it to her. She is going to freak!
These are just some of the examples of Chalk bags you can get! Price? $20-$30 Such a deal!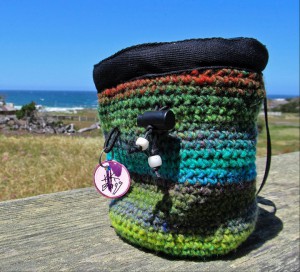 And Yoga bags? These are pretty cool too! Only $35-$40. Hurry up and get your order in before she realizes that these are worth way more than she charges.  Shhh! I won't tell!
Enjoy your Kiki Bag! Again here is the whole web address so you can visit!
https://www.facebook.com/pages/Kiki-Bags/146501365409496